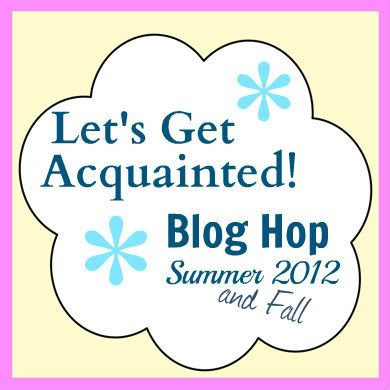 Hi and welcome to you if you have landed at my blog via the 'Let's get Aquainted" Blog Hop. Please feel free to have a look around my blog and leave a message as it is nice to know who has been here!
I have thought a lot about what to share with you once my turn came around on the blog hop. I like it when I can see other peoples' projects so I thought that I would share a game that you can 'play' with your patchwork class or group of friends.
Playing the Game... Scrappy Postage Stamp Cushion Cover
A few weeks ago at my patchwork class we played a game! I wondered whether you would like to know how to play it too? This isn't a full blown tutorial but it does give instructions on how to make a cushion like this.
At class, we were told to choose 15 different fabric scraps and cut out of each of the fabrics into 4 x 1 1/2" squares. This makes a total of 60 squares.
I really didn't think that I had enough different scraps but it is amazing what you do have in your scrap box. It was very easy to pull together 15 scraps with enough fabric for the 4 squares.
The fabrics are then divided into two, you keep 2 squares of each fabric (this gives you 30 squares) and put aside the other two squares of each fabric.
At our class we were each given a paper bag. Into our individual bags we put our own 30 squares and put the remaining 2 of each fabric (30 in total) into a basket.
The basket was passed round and we were able to pick out 10 squares of our choice (but not our own fabrics). We continued to pick out squares until they were all taken.
This process ensures that half of all the squares were not of our own fabric.
All our picked out squares were added to our paper bag. We gave our squares in the paper bag a good shake and turned them over so that they were well mixed up.
Then we picked out one square at a time and put them in rows of 10 . We were NOT allowed to put any back into the bag unless it identical to the previous one. The first few out of the bag did look awful together but we were told to keep going. As you can see from the photos the group of fabrics kept changing as we kept adding. It is handy to use a piece of wadding on which to place the squares as this helps them stay in position. As an added precaution I also took a photo of them laid out.
Do NOT cut the chains. Once at the bottom of the row, cut the threads and then chain piece the next column onto to the previous column. The photo below gives you an idea of how this is done.
Now that you have all the columns joined, it is time to sew across the rows. It is far easier to do if you press all the seams one way in the first row and then for the next row, press the seams the opposite way. This ensures that the seams nestle nicely together when you piece the rows together. I secure each join with a pin and then sew right over the pins. I rarely break a needle and it does help stop the fabric from shifting. Again, don't cut the chains as they help align the squares together.
Once done, you have a very pretty piece of patchwork. I then decided to make a cushion cover so I chose a colour that was contained in some of the squares and cut 1 1/4" strips to go all the way round the patchwork. I used lilac which is way out of my comfort zone. I then added 2 1/2" borders in green and layered it up with some calico and wadding.
I then quilted every other row and around both sides of the lilac strip.
To make the back with a zipper closure, I followed this tutorial by my lovely friend Judith. Again, I used odd fat quarters that toned but didn't necessarily match.
To finish the cushion I bound it with 2 1/2" binding, just as if you were making a quilt. I normally sew the binding onto the front of the quilt/cushion and then hand sew it down on the front.
And volia, you have a scrappy postage stamp cushion!
The secret of this cushion is that it contains two thirds of fabrics that aren't yours and perhaps you don't like however it also contains roughly a third of your own fabric choices. The lesson to take away, is that although you may not like a piece of fabric, when it is mixed with ones that you do like, it does blend in. I tried to take this further by deliberately choosing a colour to frame the patchwork that I wouldn't normally pick.
I really enjoyed doing this exercise and learnt a lot about colour and tone. I now also have a cushion that reminds me of my patchwork buddies.
I hope that you might be tempted to play 'the game' and please remember to hop over to visit Jennifer at the
Knotted Thread
as we are sharing the blog hop today.
I would also like to let you know that the blog hop continues on Thursday with