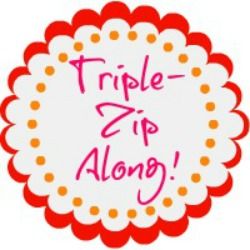 After my struggle with the first triple zippy purse/pouch I decided that I would enter the
Triple Zipper Pouch Quilt Along and make another.
I really enjoyed piecing my Perfect Tote bag and with some of the small leftover pieces of fabric I decided to
make a patchwork triple zipper pouch, following the same techniques used in the pattern for the tote bag.
I really enjoyed putting this one together and I also decided to make it slightly bigger so that my diary and pencils could go neatly in the bigger pocket.
Front of Triple zippy purse/pouch
Back of Triple zippy purse/pouch
Sometimes when you make something you feel that there is an aspect that could be improved on. It is very rare for me not to feel as if I could of done better. This is one of those rare
occasions. I love everything about this
purse/pouch, from the colours, the patchwork and the way the zips went in so perfectly. I am rather proud of this creation.
Just to check that I can really do triple zipper pouches I have done a third one, again using QAYG to showpiece those lovely typewriters.
Typewriter Triple zippy purse/pouch (Front)
Typewriter Triple zippy purse/pouch (Back)
As it is also the first of the month I am linking up with Fresh Sewing Day over at Lily's Quilts. I hope that you all have a good weekend. Tomorrow, I am off to London to meet up with my bloggy friend and fellow hipBee, Catherine.
Di x